Hey there, fearless solo female traveler! We all know that when it comes to exploring the world, a good pair of sandals is worth its weight in gold. Seriously, who wants to trek through exotic landscapes, wander bustling markets, or conquer ancient ruins with sweaty, uncomfortable feet? Not you, my adventurous friend! That's why your travel escapades must choose the best travel sandals.
Now, you might be thinking, "Wait a minute, aren't all sandals created equal?" Oh honey, if that were the case, we wouldn't have countless options cluttering shoe stores, filling up online retailers, and confusing the heck out of women like you. Choosing the perfect travel sandals is an art, my friend, and let me tell you why it's oh-so-important.
Benefits of Choosing the Best Travel Sandals
Comfort to Conquer the Unknown: Picture this: you're wandering through ancient ruins, exploring cobblestone alleyways, or strolling along sun-kissed beaches. The last thing you want is a pair of flimsy, blister-inducing sandals cramping your style. The right and best travel sandals will offer heavenly comfort and support, allowing you to conquer your adventures without a single sore step.
A style that Turns Heads (for the Right Reasons): As a bold, fearless traveler, you're not one to rock those questionable fashion choices just for the sake of comfort. No way! The right pair of  travel sandals combines both practicality and style, making you the envy of fellow wanderers. Get ready to turn heads for all the right reasons and say goodbye to those frumpy, "I'm-just-here-for-comfort" sandals.
Durability for Long-lasting Adventures: Traveling means putting your sandals through the ultimate test of durability. From rugged hiking trails to dusty city streets, your feet need a trusty companion that can withstand the elements. The best travel sandals will be your steadfast partner, enduring the wear and tear of your globe-trotting escapades and still keeping you comfortable and stylish.
Teva Tirra Sandals – The Adventure Companion
Ah, the Teva Tirra Sandals – the trusty sidekick for your daring solo adventures. These bad boys come with a price tag of $85 (because nothing great in life comes cheap, right?), but fear not, my fearless friend, for these sandals are worth every penny.
In the color department, the Teva Tirra Sandals offer an array of options that will make your fashion-loving heart skip a beat. With a tempting selection of colors, you can rock these sandals in a way that perfectly matches your adventurous spirit.
Now, let's talk pros. The Teva Tirra Sandals are like a dream for your feet. Their comfortable cushioned footbed and adjustable straps provide a customized fit that will have your feet thanking you after a long day of exploring.
Price: $85
Colors: 8 Total Colors Available
Pros:
Super comfortable and decent arch support (because who needs sore feet when you're conquering the world?)

Fully adjustable, so it's easy to find the most comfortable fit (no more sacrificing comfort for style, ladies!)

Great grip on the soles, so I feel confident wearing them in pretty much any terrain (no slipping and sliding around like a Bambi on ice, thank you very much!)

True to size fit (because, let's be honest, nobody's got time for blisters)

The classic walking sandal styling means they should appeal to most (because who says you can't look fabulous while exploring?)

The heel webbing loop makes it easy to pull the sandals on (less time wrestling with your shoes means more time conquering the world)
Cons:
I'd love to see some funkier color options available or even just the detailing and stitching in a bright, daring color (because the world is your runway, and why settle for boring?)

They aren't as water-friendly as Teva sandals with classic webbing straps
Vionic Tide II Toe Post Sandal: The Arch Support Queen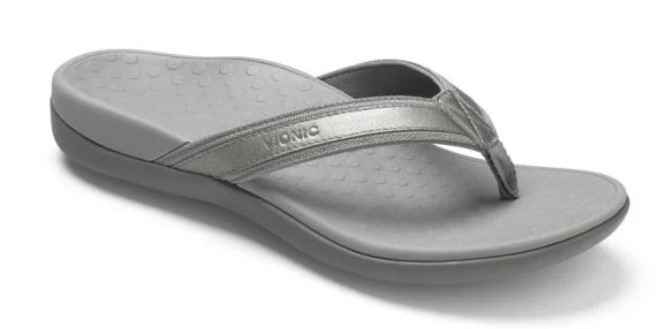 First things first, let's dive into the pros. The Vionic Women's Tide II boasts a minimalistic design, so you can rock them with any outfit without sacrificing your sense of style. And did I mention they're lightweight?
Now, let's talk about arch support. These travel sandals take it to a whole new level. They provide great arch support, even for those with problem feet. We're talking about stability and natural alignment here, keeping your foot feeling as neutral as possible. It's like having a personal foot therapist in shoe form. To top it all off, the flexible EVA midsole and Orthaheel Technology make every step a comfy dream.
Price: $75
Colors: Take your pick from 6 options
Pros:
Minimalistic design for maximum versatility

Lightweight for easy strutting

Special non-slip construction for fearless exploration

Soft upper straps and multiple color options for coziness and style

Flexible EVA midsole and Orthaheel Technology for top-notch arch support

Padded insoles for all-day comfort
Cons:
Not recommended to get wet

Straps between toes can cause blisters
Birkenstock Gizeh Sandals
Now, I know what you're thinking – "Are these Gizehs really worth it?" Well, let me lay it out for you. These travel sandals may feel a bit stiff at first, but after a few wears, they'll mold to your feet like a true companion on this wild journey we call life. And let me tell you, the more you wear them, the more you'll become addicted. You might end up never wanting to take them off!
Now, let's talk size, ladies. Fit is everything, and the Gizeh embraces your feet like a long-lost lover. Get the right size, and these babies will cuddle your feet with the most delicious comfort. But if you feel like the Gizeh is too high-maintenance for you, no worries. Other flip-flops out there require less attention, like the Olukai Ohana. They're comfy and require no breaking-in for most people. So, options, ladies, options.
Price: Range from $90 to $200
Colors: You've got plenty of options when it comes to 30 + colors
Pros:
Super-duper comfortable

. These sandals will have your feet singing a sweet lullaby.

Great arch support.

Durable

. These bad boys are built to last, so you can keep rocking them on all your adventures.

Lightweight

. No heavy lifting here.

Adjustable straps

. Because let's face it, our feet don't all conform to the same mold.
Cons:
Requires a break-in period

. Yeah, we've all been there. But trust me, it's worth the extra effort. Once you get through the "getting-to-know-you" phase, these sandals will love your feet like no other.

They run large

. So maybe size down.
ECCO Yucatan Sandals
The ECCO Yucatan is loved by hordes of happy customers, and it's no wonder why. These sandals are the perfect companions for your daily adventures, whether you're strutting around town or conquering your yard work. However, if you're looking for a technical sandal to tackle the great outdoors, the Yucatan might not be your best bet. Its thick and inflexible sole doesn't quite cut it on the trail and can be a slippery slope on uneven surfaces. And water sports? Yeah, not this sandal's forte.
Now, let's talk performance. On granite and steep trails, the Yucatan's durable rubber sole holds its ground, providing stability and support. But here's the thing, the rigid sole makes it a bit challenging to flex the toe box downward, making it harder to grip uneven surfaces. So, if you're planning an intense rock-climbing adventure, you might want to consider a sandal with a more flexible sole.
Price: $140
Colors: 10 color variations to choose from
Pros:
Durable

. These sandals are built to last, so you can kick some serious butt without worrying about them falling apart.

Receptor sole technology

. Providing support and stability like no other.

Soft padding

. Your feet deserve a fluffy cloud of comfort, and these sandals deliver just that.

Open-toe design

. Let those piggies breathe, ladies. No cramped toes here!

Three anchor points

. These sandals will hold onto your feet like your best friend.

Versatile design

. From urban exploring to backyard shenanigans.

Good traction

.
Cons:
Slightly expensive

. Yeah, we all know being fabulous comes at a price. But hey, think of it as an investment in your foot comfort and overall awesomeness.

Heavy

. These sandals aren't feather-light, so be prepared to work those leg muscles a bit.

Moderate arch support

. Hey, not everyone has high arches, right?
KEEN Whisper Sandals
These babies are all about comfort, durability, and adventure. Imagine lightweight footgear with a fast-drying upper and a grippy outsole. Sounds like a match made in hiking heaven, right? They're specifically designed for women who want sturdy, lightweight and the best travel sandals.
The KEEN Whisper Sandals are perfect for all your adventurous needs. Need ample traction? Check. Good stability? Check. Lightweight cushioning? Double check. Plus, they're breathable and fast-drying, ideal for those summer hikes that get you all hot and bothered. And let's not forget about extreme paddling, including whitewater kayaking and rafting. These sandals can handle it all, so you can go out there and conquer the water like the badass adventurer you are.
Price: $115
Colors: 10 Color Variations
Pros:
Lightweight and super comfortable

: These sandals will make you feel like you're walking on clouds.

True to size fit

: No need to play the guessing game with these babies.

Easily adjustable

: Need to make some quick tweaks on the go?

Stays securely on the foot

, even in the water: Say goodbye to those embarrassing slip-ups while taking a dip.

Perfect for watersports and adventures

: Want to conquer the waves or hike like a boss? These sandals have got your back (or, again, your feet).

Lots of different colors to choose from

: Your feet deserve to be as vibrant and fabulous as you are. Take your pick from a rainbow of options.

Comfortable to walk in

, even when wet: No more squishy, uncomfortable walks after a water adventure.

Fast drying

: Ain't nobody got time to sit around waiting for their sandals to dry.
Cons:
Some users have reported an issue with their feet sliding out the back.

Arch Support could be better
Choosing the right and best travel sandal is more than just a fashion statement or a matter of comfort. It's about embracing your fearless spirit and empowering yourself to take on the world, one comfortable stride at a time. So, my wanderlust friend, get ready to kick off those old, worn-out sandals and step into a new realm of travel footwear excellence. With the perfect pair of travel sandals on your feet, there's no adventure too big, no destination too far, and no barrier too daunting. And as always, Travel Till You Drop!