So, the hunt for a perfect Honeymoon hotel resort continues.  Are you considering a honeymoon in Hawaii?  Hawaii is known for its lush landscapes, beaches, stunning resorts, surfing, and beautiful backdrops.  With so many choices at hand, choosing just one resort can be a bit overwhelming. From the dramatic cliffs of Kauai to the stunning beaches of Maui to the Jurassic Park backdrop of Oahu, Hawaii offers a variety of resorts that cater to every couple's desires.  Below, I've highlighted 23 of the top Hawaiian honeymoon resorts known for their luxury, romance, and breathtaking locations.  
How do You Choose?
Selecting the perfect honeymoon hotel is a crucial decision that can significantly enhance your post-wedding getaway. The right hotel will provide you with a romantic ambiance, exceptional amenities, and unforgettable experiences. With countless options available, it's essential to consider several factors to ensure you make the best choice. In this article, we will guide you through a comprehensive process on how to choose the best Hawaiian honeymoon resorts. From location and budget to amenities and special packages, these considerations will help you create cherished memories that will last a lifetime.
1. Identify your Perfect Destination  
So, how do you decide on your perfect destination in Hawaiian honeymoon resorts? First off, think if you'd prefer a tropical beach setting in Maui, a mountain retreat in Oahu, or a volcanic backdrop in Kauai.  Each option could be absolutely amazing, but your personal preference needs to be the driving factor. Once you and your significant other identify the location, activities, attractions, and experiences you would like to have, it'll be much easier to identify the exact location. 
2. Set a Realistic Budget  
Next up, you need to establish a budget to avoid overspending and financial stress during choosing your Hawaiian honeymoon resort. First, determine how much you can afford to spend on your resort.  Consider the hotel costs as well as transportation, meals, activities, and any potential fees. Keep in mind that your honeymoon is a super special occasion, so I recommend allocating a large portion of your budget to your hotel. However, ensure that you strike a balance between affordability and luxury, as there are a ton of options available in every price range.
3. Research and Compare Hawaiian honeymoon resorts Options 
Before booking anything, make sure you conduct thorough research on the Hawaiian honeymoon resorts in your chosen destination. You need to head to their websites, identify each hotel's amenities and services, and, most importantly, read the reviews! Pay attention to aspects such as room types, views, dining options, local activities, and spa facilities. The reviews tell a story. Make sure to scroll through the current and reviews from several months ago.
Occasionally, brands or individuals may hire people to place fake reviews in the system on top, so make sure you continue to scroll.  Make sure you also look for specific amenities that are important to you as a couple, such as beach access or touring prospects. As you sort through the possible, make a shortlist of those that align with your budget and preference. Compare their features, locations, and offerings side by side. Also, ensure you consider factors like how close you are to attractions, points of interest, transportation, and the vibe of the hotel.
4. Consider Honeymoon Packages and Special Offers 
Many mid-level to luxury Hawaiian honeymoon resorts offer honeymoon packages and deals designed for newlyweds. Often, the packages will include champagne upon arrival to start off the romance, couples' joint spa treatments such as couple's massage, candlelit dinners, or even complimentary upgrades. Even if you find the nightly price, make sure to click through to the packages section to identify the potential options.  Additionally, read the fine print as some hotels may require a minimum stay or payment of hidden fees to qualify for these packages, so always read the terms and conditions.
5. Seek Recommendations and Insights  
Talk to people that are close to you, such as family or friends, or those who have traveled to the location you wish to go.  Additionally, use social media and review a variety of travel blogs, and there may be places that don't initially pop up in your search.  Travel Bloggers can be a huge resource to you when you start looking for your perfect Hawaiian Honeymoon destination. 
6. Check Availability and Book in Advance
Once you have created your shortlist, make sure you check each hotel's availability for your desired honeymoon dates. Popular honeymoon destinations such as Hawaii are often high in demand, especially during peak seasons, so don't miss out on your perfect Hawaiian honeymoon resorts. Consider calling the hotels directly to inquire about availability, special rates, and any special requests you may have. By booking early, you can ensure you lock in your preferred Hawaiian honeymoon destination, giving you peace of mind.
7. Pick Your Island
Now that you have all the basic steps identified and have a step-by-step plan for how you intend to go about your search, it's time to help you choose your island and your resort.  Hawaii is made up of 8 main islands. Here, we will discuss 6 of those islands that are more suitable Hawaiian honeymoon resorts as destinations. The islands I will discuss include Maui, Oahu, the Big Island of Hawaii, Kauai, Lanai, and Molokai.
Maui: Maui is famous for its pristine beaches, including the picture-perfect Kaanapali and the serene Wailea. Additionally, it is known for the dramatic landscape of Haleakala National Park and the Road to Hana, which offers a gorgeous drive with waterfalls and lush rainforests.
Oahu: Oahu is known for its lively capital city, Honolulu, which offers a mix of urban energy and beautiful beaches like Waikiki, and the filming location of Jurassic Park. It is also home to Pearl Harbor, the historic site of the WWII attack, and the USS Arizona Memorial.
Big Island of Hawaii: The Big Island is celebrated for its active volcanoes, notably Kilauea, which provides mesmerizing lava flows. Visitors can explore Hawaii Volcanoes National Park and enjoy black sand beaches, such as Punalu'u.
Kauai: Known as the Garden Isle, Kauai captivates with its breathtaking natural beauty. The Na Pali Coastline, Waimea Canyon (the "Grand Canyon of the Pacific"), and the lush Wailua River are among the island's stunning attractions.
Lanai: Lanai is recognized for its secluded luxury resorts, such as the Four Seasons Resort Lanai, which is well worth the money. The island also offers opportunities for hiking, off-roading, and the exploration of beautiful beaches.
Molokai: Molokai is known for its unspoiled landscapes and rich Hawaiian heritage. The Kalaupapa National Historical Park is a beautiful off-the-beaten-path location that offers a glimpse into the island's history. Molokai also boasts beautiful beaches and scenic hikes.
8. Choose One of These Top Honeymoon Resorts
Now that you have a good idea of which island you want to go to, let's take a look at 23 amazing Hawaiian honeymoon resorts that are distributed throughout each of the islands.  These top resorts are shown in no particular order (with the exception of my personal favorite on each island and highlighted with **).  I am including the current going per-night rate for each as a starting point. Please check with each resort for specials and current pricing. 
Maui
1.**Four Seasons Resort Maui at Wailea: $990/night. This elegant and renowned resort features stunning ocean views, spacious rooms, and a range of amenities, including a spa, pools, and gourmet dining options. You can never go wrong with the Four Seasons.  The resort's impeccable service and attention to detail ensure an unforgettable honeymoon experience.
2. The Ritz-Carlton, Kapalua: $839/night. Located on the picturesque Kapalua Bay, this luxury resort offers exceptional service, beautifully appointed rooms, and access to championship golf courses and a serene beach. Situated on Maui's northwest coast, The Ritz-Carlton, Kapalua provides a luxurious and romantic retreat for honeymooners. The resort's spacious suites and villas offer ocean or garden views and are elegantly furnished with modern Hawaiian honeymoon resorts. Couples can enjoy championship golf courses, unwind at the lavish spa, and dine at the renowned Banyan Tree restaurant. The Ritz-Carlton, Kapalua combines luxury and natural beauty, creating an enchanting setting for a honeymoon.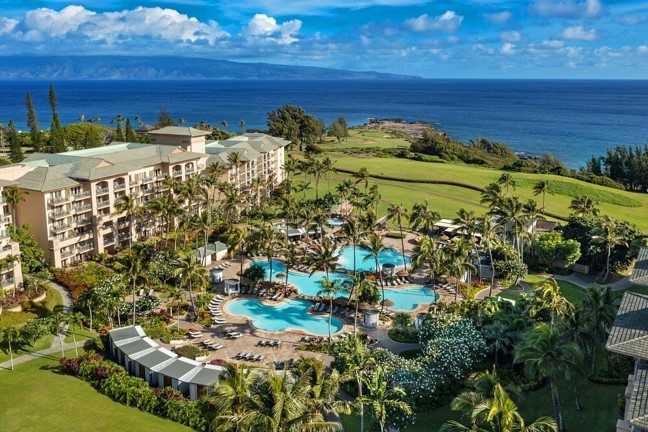 3. Hotel Wailea: $999/night. A boutique adults-only resort, Hotel Wailea provides an intimate and peaceful atmosphere, with luxurious suites, lush gardens, a stunning infinity pool, and an acclaimed farm-to-table restaurant.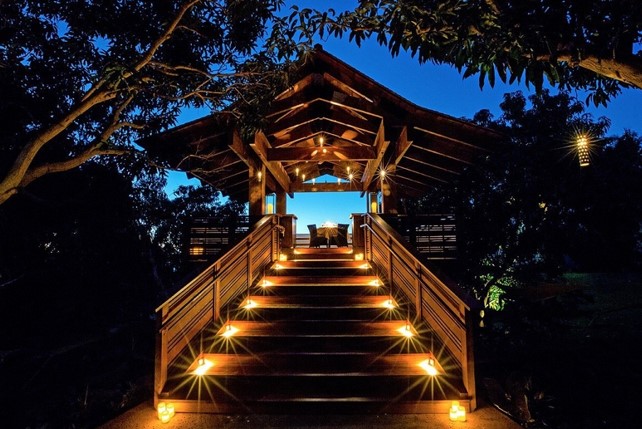 4.Travaasa Hana, Maui: $662/night. Situated in the remote town of Hana, this secluded resort offers a tranquil and authentic Hawaiian experience. Guests can enjoy oceanfront cottages, a spa, and activities like horseback riding and waterfall hikes. For couples seeking an intimate and off-the-beaten-path Hawaiian honeymoon resorts experience, Travaasa Hana on Maui's eastern coast is the perfect choice.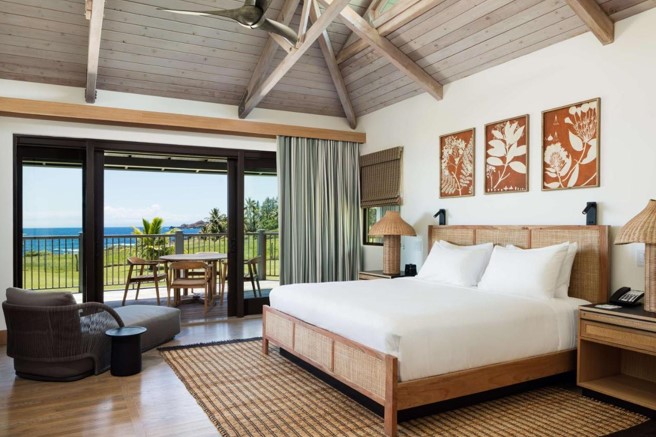 5. Montage Kapalua Bay: $1,875/night. Set on the stunning Kapalua Bay, this luxury resort boasts spacious and stylishly designed residences, a picturesque beach, multiple pools, and a world-class spa. Nestled on the northwest coast of Maui, Montage Kapalua Bay provides a romantic escape for honeymooners seeking tranquility and natural beauty. The resort's spacious suites and villas offer stunning ocean views, and the private lanais provide the perfect spot for intimate moments. Couples can explore the nearby Kapalua Bay Beach, indulge in spa treatments inspired by Hawaiian traditions, and savor gourmet dining experiences. The resort's commitment to personalized service creates an atmosphere of pure romance.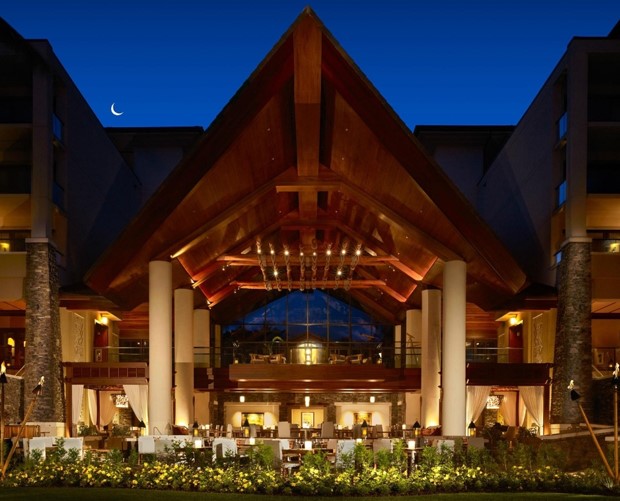 As you can see, these hotels offer a wide variety of romantic amenities, beautiful ambiance, and breathtaking settings to create a memorable honeymoon experience in Maui.
Oahu
Oahu, with its mix of natural beauty and vibrant city life, offers a range of Hawaiian honeymoon resorts that cater to different preferences. Here are some top choices for honeymooners in Oahu:
1. Halekulani Hotel: $547/night. Located in Waikiki Beach, Halekulani is a luxury resort known for its refined elegance and exceptional service. It offers spacious rooms, a stunning oceanfront pool, fine dining options, and a world-class spa. Situated on the iconic Waikiki Beach, Halekulani is a luxurious oasis that combines Hawaiian charm with world-class service. Its spacious rooms and suites offer stunning ocean views, and the resort's signature hospitality ensures a romantic and memorable stay. Couples can relax at the award-winning spa, dine at the renowned La Mer restaurant, and enjoy sunset cocktails at House Without a Key. Halekulani provides a sophisticated and refined setting for an unforgettable honeymoon.
2. The Kahala Hotel & Resort: Situated on a secluded beach, The Kahala Hotel & Resort provides a serene and luxurious escape. Guests can enjoy spacious rooms with private balconies, a dolphin lagoon, a spa, and several dining options.
3. Four Seasons Resort Oahu at Ko Olina: $950/night. Set on the tranquil western coast of Oahu, this exquisite resort offers breathtaking ocean views, luxurious accommodations, a lagoon-style pool, a spa, and access to a private beach.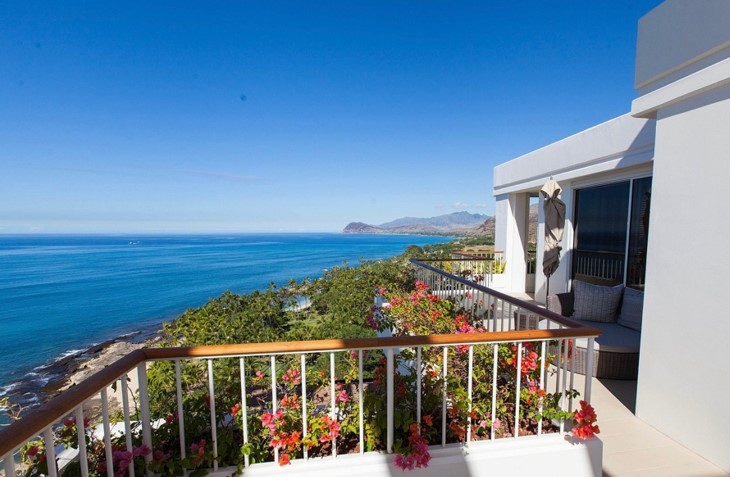 4. The Royal Hawaiian, a Luxury Collection Resort: $431/night. Known as the "Pink Palace of the Pacific," this iconic Waikiki Beach resort offers a blend of timeless elegance and Hawaiian charm. The Royal Hawaiian is an iconic resort located on Waikiki Beach in Oahu. Its luxurious rooms and suites exude elegance and charm, with many offering stunning ocean views. Honeymooners can relax by the pool, enjoy beachfront cabana massages, and experience traditional Hawaiian entertainment at the resort's Aha'aina Luau. The Royal Hawaiian embraces the island's rich history and provides a captivating backdrop for a romantic honeymoon.
5. Aulani, A Disney Resort & Spa: $725/night. Perfect for couples seeking a blend of relaxation and entertainment, Aulani offers a magical honeymoon experience. It features beautiful rooms, a lazy river, a private lagoon, spa services, and a variety of Disney-themed activities.
These honeymoon hotels in Oahu provide luxurious accommodations, stunning views, and an array of amenities to ensure a memorable and romantic experience for couples.
Big Island, Hawaii 
1.**Four Seasons Resort Hualalai: $1,500/night. Of course, my favorite on the Big Island will be the Four Seasons Resort Hualalai. The Four Seasons always offers incredible service and over-the-top rooms, views, and excursions. Located on the serene Kona-Kohala coast of the Big Island, the Four Seasons Resort Hualalai offers a perfect setting for honeymooners. With its exquisite oceanfront villas, breathtaking views, a Jack Nicklaus-designed golf course, private lanais, and plunge pools, and seven top-shelf restaurants. This resort provides the perfect blend of luxury, activities, and relaxation.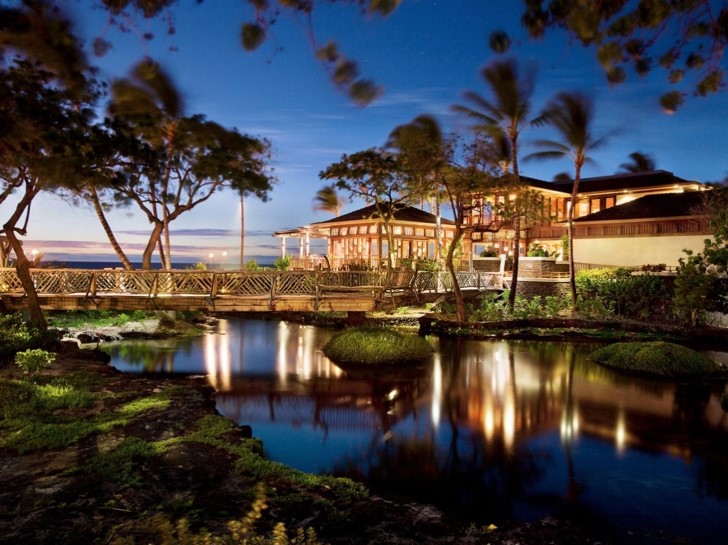 2. Mauna Lani, Auberge Resorts Collection: $767/night. Located on a picturesque stretch of Kohala Coast, this resort boasts luxurious accommodations, including private bungalows with plunge pools, a championship golf course, a beach club, and a world-class spa. Perched on the white sands of Kauna'oa Bay, Mauna Kea Beach Hotel is an iconic honeymoon destination on the Big Island. The resort's spacious rooms and suites offer breathtaking ocean or golf course views, and the legendary Mauna Kea golf course attracts avid golfers. Couples can relax at the serene beach, enjoy traditional Hawaiian luaus, and experience the resort's world-class dining options. Mauna Kea Beach Hotel provides an elegant and timeless setting for a romantic honeymoon.
3. Fairmont Orchid, Hawaii: $620/night. Situated on the Kohala Coast, this elegant resort features spacious rooms with private lanais, a stunning white sand beach, a beachfront pool, multiple dining options, and a luxurious spa.
4. Hilton Waikoloa Village: $549/night. This sprawling oceanfront resort offers a wide range of amenities, including multiple pools, waterslides, a lagoon, a golf course, tennis courts, a spa, and various dining options.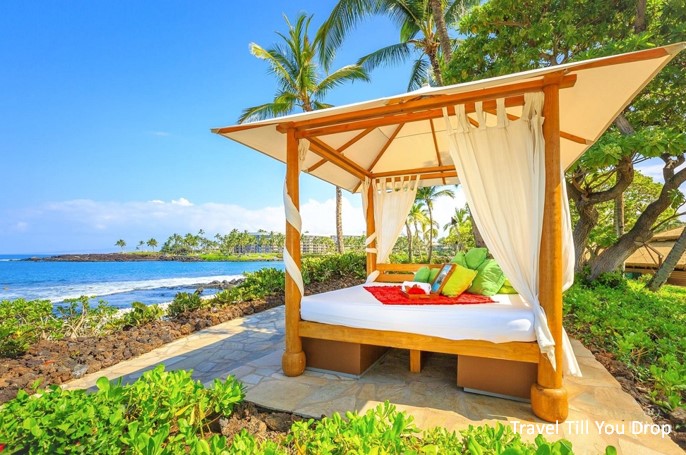 5. Mauna Kea Beach Hotel: $899/night. Known for its timeless elegance, this iconic resort overlooks one of the island's best beaches. Guests can enjoy luxurious accommodations, championship golf, a variety of water activities, and an extensive art collection.
Kauai
1. **

St. Regis Princeville Resort

: $1,040/night. Located on the North Shore of Kauai, this luxurious resort boasts breathtaking ocean views, upscale accommodations, and impeccable service, with a bit of a Yellowstone Ranch flair.  Enjoy the infinity pool, fine dining options, and the serene Makai Golf Course. Perched on a cliff overlooking Hanalei Bay, the St. Regis Princeville Resort on Kauai is a haven for couples seeking luxury and seclusion. The resort's elegant rooms and suites boast magnificent ocean or mountain views, and its attentive staff ensures a seamless honeymoon experience. Couples can enjoy a private helicopter tour of the island, rejuvenate at the award-winning spa, and relish in fine dining at the renowned Kauai Grill. The St. Regis Princeville Resort sets the stage for a truly romantic escape.
2. The Lodge at Kukui'ula: Nestled in a private community on the South Shore, this exclusive resort offers spacious cottages and villas, a world-class spa, an 18-hole golf course, and access to a private beach club.
3. Ko'a Kea Hotel & Resort: $582/night. Situated on Poipu Beach, this boutique hotel provides an intimate and romantic atmosphere. Guests can relax in stylish rooms with ocean views, indulge in spa treatments, and savor gourmet cuisine at the award-winning Red Salt restaurant.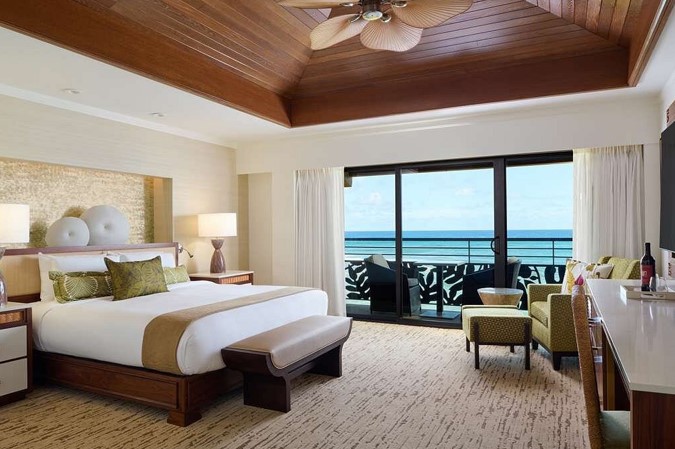 4. Grand Hyatt Kauai Resort & Spa: $1,424/night. Set amidst lush gardens and overlooking the ocean, this expansive resort offers luxurious accommodations, a multi-level pool with waterfalls and slides, a championship golf course, and a lavish spa. Located on the sunny south shore of Kauai, the Grand Hyatt Kauai Resort and Spa offers a luxurious and immersive experience of Hawaiian honeymoon resorts. The resort's spacious rooms and suites boast garden or ocean views and its sprawling grounds provide a sense of serenity. Couples can unwind at the award-winning Anara Spa, take a romantic sunset cruise along the Na Pali Coast, and enjoy delectable dining options. The Grand Hyatt Kauai Resort and Spa ensures a truly memorable honeymoon in paradise.
5. The Cliffs at Princeville, Kauai: $449/night. Located on a dramatic cliffside overlooking Hanalei Bay, this recently renovated resort offers stunning views, elegant rooms, a luxurious spa, and access to world-class golf courses.
Lanai
Lanai, a secluded and tranquil island, offers a perfect setting for a romantic honeymoon. While the options for honeymoon resorts on Lanai are limited, there is one exceptional resort that stands out:
1. **Four Seasons Resort Lanai: $2,145/night. The Four Seasons Resort Lanai is the premier luxury resort on the island, providing an exclusive and intimate experience for honeymooners. Set amidst lush gardens and overlooking the Pacific Ocean, the resort offers spacious and elegant accommodations, private lanais, and stunning ocean views. Couples can enjoy the resort's beautiful pools, indulge in world-class dining options, relax at the spa, and explore the island's natural beauty together.
Although the selection is limited, the Four Seasons Resort Lanai ensures a luxurious and memorable honeymoon experience with its impeccable service, breathtaking surroundings, and an array of amenities and activities for couples to enjoy.
Molokai
Molokai is known for its peaceful and unspoiled beauty, offering a serene setting for a romantic honeymoon. While there are no traditional luxury resorts on the island, there are a couple of charming accommodations that provide an intimate and authentic experience:
1. Hotel Molokai: $246/night. Hotel Molokai is a quaint waterfront hotel located on the island's southern coast. It offers cozy and rustic accommodations in the form of bungalows and oceanfront rooms. Couples can enjoy stunning sunset views, a relaxing pool area, an on-site restaurant serving local cuisine, and access to nearby beaches.
2. Molokai Shores: $139/night. Molokai Shores is a condominium complex situated on the island's west coast. It provides spacious and fully-equipped units with ocean views. The property features a swimming pool, beautifully manicured gardens, barbecue areas, and direct beach access.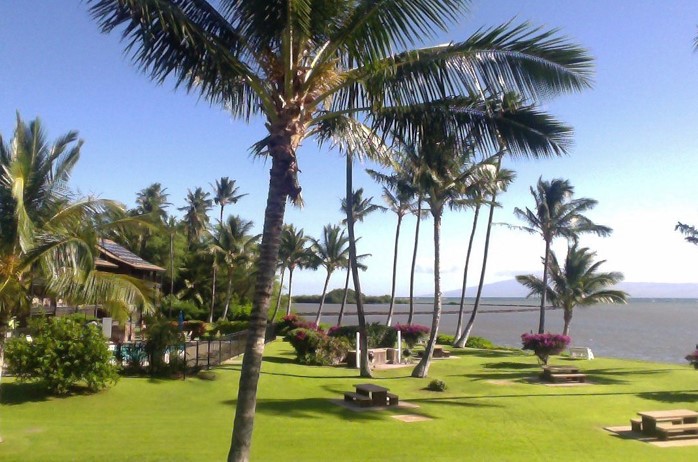 These accommodations may not be traditional luxury Hawaiian honeymoon resorts, but they offer a peaceful and romantic atmosphere, allowing couples to enjoy each other's company amidst the natural beauty of Molokai. The island's unspoiled nature, secluded beaches, and rich Hawaiian culture make it an ideal destination for couples seeking a quiet and intimate honeymoon experience.
Conclusion  
So, I do hope that after reviewing the above guide to Planning the Perfect Hawaiian honeymoon resorts, you have identified the steps, the right Hawaiian island for you, and the Hawaiian Honeymoon resorts of your dream.  As I've shown, Hawaii offers a wide variety of top-rated honeymoon resorts that cater to every couple's desires. From the serene luxury of the Four Seasons Resort Hualalai to the enchanting ambiance of The Royal Hawaiian, each resort presents a unique experience filled with romance, breathtaking views, and exceptional service.
Whether you choose the tranquil beaches of Maui, the dramatic cliffs of Kauai, or the diverse landscapes of the Big Island, a honeymoon in Hawaii is sure to create unforgettable memories. Take the time to explore these top-rated resorts and select the one that resonates with your vision of the perfect honeymoon. Prepare to be swept away by the beauty and charm of the Hawaiian Islands as you embark on this journey of love and adventure together, and always remember to Travel Till You Drop! 
If you'd like to check out another amazing location for a honeymoon, check out my article on the Top 15 honeymoon resorts in the US Virgin Islands.